About us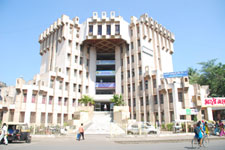 Institute of Management and Rural Development Administration, Sangli, was established in year 1994, with the aim of imparting high class management and computer education to the students of this region. The Institute is approved by AICTE New Delhi and Maharashtra State Government. The institute has been brought under the ambit of Bharati Vidyapeeth (Deemed to be University), Pune from the academic year 2005-06.The motto of this Institute is "Social transformation through dynamic education." True to this motto,
IMRDA Sangli has been continuously striving to encourage students to pursue higher education. This alone will ensure perceptible progress of the society and integrate it with global business activity, keeping the above in view, IMRDA imparts education in Management and Information Technology fields.This Institute is centrally located in Sangli. The building, in which it is housed, is an architectural marvel. It is about one km from central bust stand and three km from railway station. Bharati Vidyapeeth (Deemed to be University), IMRDA Sangli is located in the sprawling educational complex.
The infrastructure facilities include will furnished classrooms, seminar hall, reading room separate faculty cubicles, students common room, ladies room amenities like telephone, banking and large circulation space. Latest teaching and learning aids and equipments are used for importing education. These includes OHP, LCD projectors, multimedia systems, public address system, EPABX, Fax machine etc. The library is stocked with adequate number of text books, reference books, periodicals and journals. Computer center of the Institute has 180 of the state of the art Pentium IV work stations, supported by latest software and hardware components. The Institute provides leased line internet facilities for the students round the clock.